In order to limit lightning surge to a level not harmful for equipment and electrical installations, a great solution is to setup Surge Protection Devices (SPD) to protect against these surges on AC power or communication networks.
The CITEL Company produces a complete range of surge protectors to suit all types of networks and all installation configurations.

CITEL DS AC power surge protection devices are designed to meet all your surge protection needs for low voltage installations. These DIN rail mounted surge protectors are easy to install in any standardized distribution pane or control cabinets. They are equipped with a thermal disconnection device and provide real-time fault indicators thus allowing complete operational safety. These surge protectors are available with several protection circuits in compliance with the most demanding installations and standards. CITEL offers a line of surge protectors for single and 3-phase AC networks connected to sensitive equipment. These products, are available in various formats: Hard-wired units single-phase or Hard-wired units and combiner box for US market.
Photovoltaic Surge Protectors

Photovoltaic (PV) grid-connected low voltage power lines may be subject to over-voltage on different networks, namely AC, DC or communication networks. Depending on the type of network and the presence of lightning rod or existing primary surge protectors, CITEL offers a complete range of solutions to protect the AC part of the PV system.
LED Systems Surge Protectors

LED street lighting is now widely used, however an inherent weakness is its sensitivity to transient voltages created by lightning or power switch operations on AC network. CITEL offers a full range of surge protectors designed to be installed at different points on the lighting network such as streetlights, the base of poles and street cabinets. Surge protection devices are available in Class 1 and Class 2 isolation, wire or screw terminal, as well DIN rail mounting version.

Telecom and Data Line Surge Protectors

These sub-assemblies can be easily used by installers and home users. They are designed to protect Private Branch Exchange (PBX) and electronic equipment connected to phone systems or to the Local Area Networks (LAN). In recent times, implementation of digital telecom centrals and terminals has been increasingly fragile. This evolution requires the design of very effective protection systems adapted to all current and future networks.


To complete the range of surge protection, CITEL offers a diversified line of coaxial surge protection to protect coaxial feeds and antennas. With the wide range of mobile equipments available (GSM, PCN, UMTS, BLR), coaxial protectors are becoming more and more important and continue to evolve towards new technology such as Quarter Waves.

Detect and record impulse current conducted by the down conductor of the lightning protection system or by the earthing wire of a surge protective device.

Automatic AC voltage monitoring relay for 230V and 120V network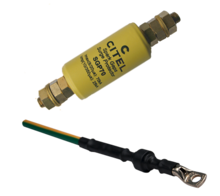 Protect metallic elements, like antennas, poles, pipes, and roofing equipment which are not connected to earth or a Lightning Protection System against the risk of a flashover during a lightning strike.

Citel has a range of product application and instructional videos to help you understand the various products, how they work and the benefits.